and this is what it is...
I have always been heavily interested in 3-D stuff, you know like advertising thingies. I remember being a very small child out shopping with Nana in downtown Tauranga in the 60's and wishing I could get up close and personal with the big tiger on top of the bank facade verandah, to touch it and see what it felt like.
Well, I couldn't touch it then and that has continued for all of my life - see something but can't get close enough to touch it.
It's Hell being so tactile you know... oh how I have suffered.
So now I have a different plan - take pictures of all the big advertising thingies and make a collection and if someone could tell me what they are really called, that would be great. Some of the ones I would like to have included are gone now; the Monster on the Roof at the video shop, the Penny Farthing bike at Pedlars and their huge red blimp that floated a hundred metres up in the air above their shop which they winched in every night, that got loose and floated out to sea and into the flight lane. The Dominator door opener Giant Hand is gone, it seems but there is one in Thames that's a little the worse for wear. I will try to get a shot of that one instead.
So anyway, here they are, the beginning of an ongoing project to photograph these things wherever we go.
The criteria for selection is:
1. They are fully three dimensional
2. They are different or interesting
3. They are larger than life (cos I like BIG things)
4. They make me want to get up close, touch some part of the structure or want to take it home.
I never said I was
normal
, you know...

This one was around when I was a child and was refurbished by Jes Wilson a few years ago after losing an argument with a car.


"Shelly" the marlin outside 15th Ave service station.
Carter's Photo shop Devonport Road
Animates Pet Shop


Chainsaw place in Elizabeth Street


Hillsdene Wines in Cameron Road


Mad Butcher in 11th Ave
Dominator door opener hand
Thames
L&P Bottle
Paeroa
Main Street Waihi.


Total Span
trailer mounted
Mascot

























Mural Town
KATIKATI in the Bay of Plenty is known as "Mural Town" for a very good reason - there are murals painted on walls all over the place.
They also have a permanent park bench resident :-)
OK, so murals aren't 3D, but they are cool nonetheless.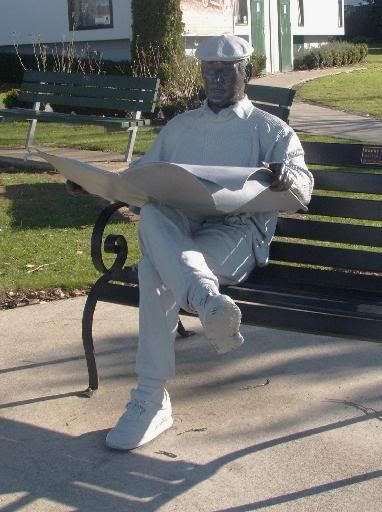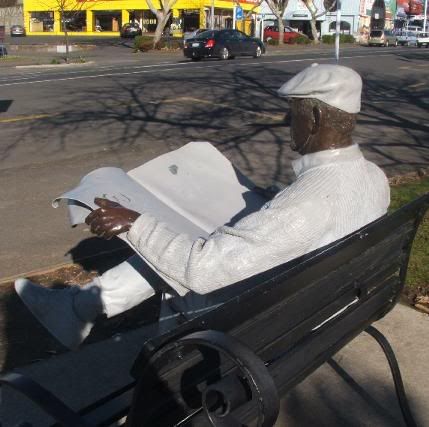 Murals include: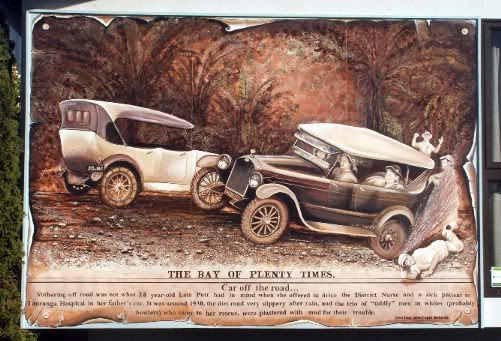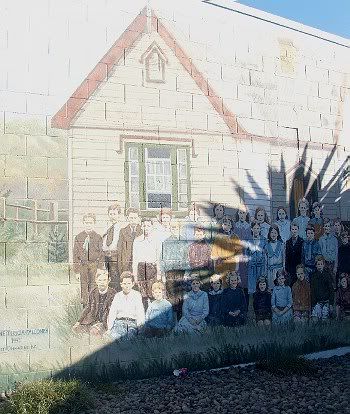 This one, of the Waitekohe school in the early 1900s, has been ruined by the inclusion of an access ramp which runs out in front of it. It makes taking pictures of it really difficult. Such a shame.
The school itself still stands just a few kilometres south of the township and has been restored, refurbished and extended for use as a family home.
Back in the 90's, the Variety Club Bash came through and this car was part of the parade.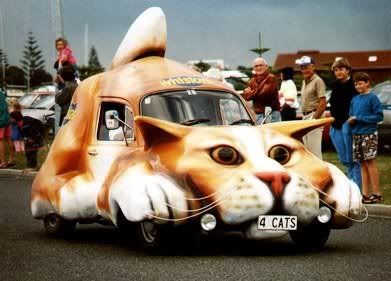 I'll be adding more images when I have the opportunity to gather them.